Events and Specials
The 19th Hole Bar and Grille in Green Valley, AZ
Specials & Events Calendar
As a Green Valley Restaurant and sports bar, The 19th Hole Bar and Grille in Green Valley, Arizona just south of Tucson is "All About the Game". We feature several Hi-Definition Big Screen TVs located throughout our bar and Dining area so that you can always find the best seat in the house for any game or sporting event. With great food and cold beer at affordable prices, we offer everything any sports fan could want. Please call for details. We invite you to come in today to watch the game or your favorite sporting event at our Green Valley Restaurant and Sports bar. To see select baseball, football, and hockey game schedules as well as some of the special events that you can watch on our TVs, please browse our calendar below. This calendar also shows specials available at the 19th Hole Bar and Grille. For additional information regarding our Menu, please CLICK HERE!
HAPPY HOURS!
Monday-Friday 2pm to 5pm
9pm until closing 7 Days a Week
---
Calendar of Events
---
Drink Specials
Hawaiian Mimosa
Champagne with coconut rum,
pineapple juice and a cherry
$5
~ • ~
Mojitos
Mango, Prickly Pear or Orange
Light rum, fresh lime, club soda and fresh mint
(from Amy Lou's garden)
$5
~ • ~
Electric Margarita
Tequila with Blue Curacao, Sweet and Sour Mix served
"border style" (straight up) with a sugared rim.
$5
~ • ~
Georgia Peach
Smirnoff Peach Vodka on the rocks with Sprite, orange juice
and a splash of cherry juice
$5
~ • ~
Sangria Roja
Shiraz red wine on the rocks
with peach schnapps and cherry brandy
$5
~ • ~
Dark-n-Stormy
Kraken Black Rum on the rocks with ginger beer,
lime and bitters
$5
~ • ~
Also featuring:
Build your own Bloody Mary Bar
​​​​​​​(prices vary)
---
TACO TUESDAYS


for a Limited Time!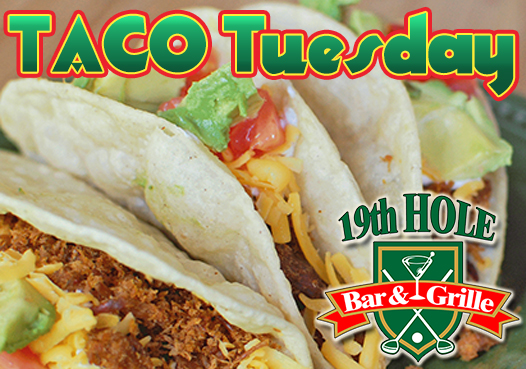 $1 Tacos
(3 taco minimum order)
Ground Beef tacos topped with lettuce and cheese
served in a flour tortilla with sour cream and salsa.
Add beans or rice for $1 each
Enjoy a 9 oz Margarita for only $3.50!
Valid during Tuesday Happy Hour only
2pm until 5pm
---
Joe Nelly's Desert Treasure Band will play
at 19th Hole Bar & Grille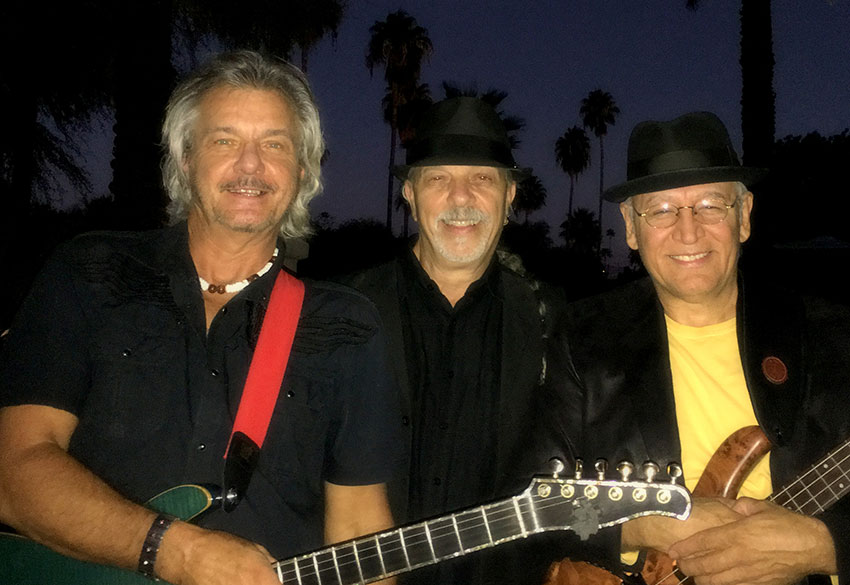 Friday, December 15th 9pm 'til Midnight
This is the only band and the only dates scheduled to play
at The 19th Hole Bar & Grille for the coming season.
About The Desert Treasure Band:
Variety served up with Vocals
The Desert Treasure Band is comprised of Joe Nelly on drums/vocals, Dave Mick on guitar/vocals, and Dee Molina on bass/vocals. Each have 50+ years of gigs, recording and concert experience, and together provide a plethora of great songs that just keep coming! Material done is in the Classic Rock, Funk, R&B, Country, Latin, and Blues genres, that are all wrapped in vocals thick with harmonies, and served on a musical bed of grooves that get you to move and make you want to dance. Artists covered range from Van Morrison to Steely Dan, Doobie Bros. to Santana, Jackson Brown to Average White Band, Temptations to The Police, The 4 Seasons to Stevie Ray Vaughn, Leroy Parnell to Malo, and much more.
We come ready to play, so come ready to dance and get your groove on!
We like to consider them the 19th Hole "House Band."
---
Karaoke Every Saturday Night @9:00pm. Al Rodriguez All Star Karaoke is every Saturday night from 9pm until midnight.
---
The Arizona Wildcats are on at the 19th Hole!
We'll have every Arizona Wildcat game on the big screens through Cox Cable.
---
Prime Rib Night
Tuesdays! 6oz cut of tender Prime Rib with your choice of soup or salad, baked potato, rice pilaf or house potato. While Supplies Last.
Don't be late!
---
We're also featuring:
• Our beer battered Cod as the fish and chips
• Our popular St. Louis style BBQ Pork Ribs
• A juicy 10oz Rib Eye Steak
Desserts by Amy Lou! I saw some Apple Pie, Cherry Pie, Peach/Berry Cobbler, New Orleans Bread Pudding, Peanut Butter Pie, and Brownies. Ask what else she's been baking!
Ask your server for a comment card to let us know how we're doing. Be sure to give us your email address or cell phone number so we can send you specials and discounts throughout the week!
---
Be sure to ask your server for a comment card to let us know how we're doing.
Want to be kept up to date with happenings at the Hole?
Don't forget to sign up for our eNewsletter on the top right-hand side of the page.